Frequently Asked Questions About Digital Thermography
What is a baseline? .
A baseline is a baseline measurement consisting of two scans taken 90 days apart. It is a starting point that can be used for further comparison.
In breast thermography, the baseline is a personal archive containing a thermal fingerprint of your body. A stable baseline means that no active thermal processes have been observed that could indicate tissue changes.
The 90-day period is important because that is the time it takes for cells to double. Hence, two appointments are needed to create a baseline.
It is true, however, that a stable baseline does not exclude encapsulated processes, calcium spatter, or slowly developing processes. Any change in the breast should be investigated further.
How should I prepare for a scan? .
To get the best results, you need to do and leave a few things that will ensure that your thermal image of your body is not affected by things that have nothing to do with your health.
Four days before the scan:
Do not exercise extensively. Avoid major exertion that may still cause muscle pain on the day of the appointment.
Do not go in the sun or tanning bed for a long time. In short, nothing that could affect the temperature of the body.
Do not spend long periods in the sun or on a sunbed.
The day before the scan:
Do not exercise the day before the scan.
Not getting physical therapy treatment.
On the day itself:
Do not drink caffeinated drinks (such as cola or redbull).
Do not use deodorant, cream, body lotion and talcum powder
Don't wear tight clothes, no bra.
Don't shave.
Bring something to put your hair up with.
Are you coming for a thermography of the head, a full body or half body? Please do not use any make-up or creams.
Starting three hours before the scan:
No hot drinks (such as coffee or tea).
No smoking.
Are you coming by car?
Do not turn on the seat heater.
What are the qualifications of Thermography Amsterdam? .
Meditherm Amsterdam is trained, recognized and certified by the American College of Thermology.
The strength of this is that it is an international company that works according to strict protocols. The procedures for making infrared scans are standardised and these may only be done by thermographers who have been trained and certified by the ACCT. As a result, every thermographer at every location delivers the same type of scans, made with the same equipment according to the same procedures.

How does Breast Thermography work? .
Using a list of questions, I will discuss your medical history and any complaints you may have.
For a breast examination you will be asked to take off your outer clothing after the intake interview. You may keep your undergarments on. Then the scan is made. This takes about five to ten minutes. Total we are busy about 30 minutes.
About 14 scans are made. This does not hurt and is not uncomfortable. These are pictures that are taken with a special infrared camera. No radiation is released because the camera does nothing more than capturing the thermal image of your body. If you have any questions during the scans you can just ask.
After a few working days you will receive the first report from the doctor.
Should the first report give rise to any explanation or further investigation, you will be contacted personally for this purpose before you receive the report.
For a complete baseline scan, a second thermogram is taken three months after the first thermogram.
In this way, possible growth of tissue can be excluded or confirmed. The cell doubling rate is about 90 days. Therefore, comparing both scans (after three months) will give an idea of the health of your breast.
After a few working days you will receive the second report from the doctor.
Again, we will contact you personally first if necessary.
The report shall state whether there is any evidence of physiological abnormalities.
The report contains no direct diagnoses. However, it does indicate whether there are grounds for further investigation. In that case you can take the report with you to your doctor/specialist for possible further steps. If you would like to be referred to a non-toxic therapist, this is of course also possible.Advice in the form of lifestyle changes is also possible.
Who reviews the scans and makes the reports? .
Our scans are assessed and reported by doctors who have completed an additional course in medical thermology in addition to their medical training.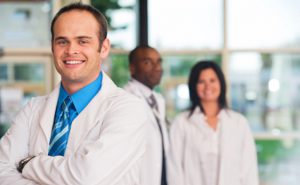 These doctors belong to the international network of the "American College of Clinical Thermology"
The scans we take are uploaded to the European servers of the interpretation service and then interpreted by the thermologists of the ACCT.

Is medical thermography an alternative to mammography or population screening?
No.
Medical thermography uses passive infra-red imaging to visualise temperature differences, whereas mammography is an X-ray image that shows masses and structures. These two techniques are fundamentally different and also provide completely different information.
Thermography is particularly suitable for women with small or large breasts and women with breast implants.
Thermography is a painless, non-invasive, clinical test with no exposure to radiation. It can be used as part of an early detection program that allows women of all ages to monitor their breast health.
See also: meditherm.com
Does a medical thermogram with no abnormalities mean I'm 100% healthy?
No.
Like any other examination method, medical thermography does not provide a 100% guarantee.
Can medical thermography be used to diagnose cancer?
No.
The diagnosis of cancer can only be made by tissue examination.
With medical thermography it is possible to support the making of a diagnosis. In case of suspicious indications, a referral will always be made to the general practitioner and/or the hospital for further investigation.
Is Thermography covered by insurance? .
At the moment, as far as we know, unfortunately not!
We decided to keep the price as low as possible to make thermography accessible for as many women as possible.
As soon as we know that a certain insurer will pay for thermography, we will report this.
If you know of an insurer that we do not report please let us know so that we can update our information.
What does a baseline cost? .
To create a baseline, two appointments at least 90 days apart are required.
The current price of a baseline is on the price list. You can choose from different types of appointments which all have thermography as a starting point, with or without additional time and extra examinations.
In rare cases, the doctor's report shows that a stable baseline is not possible after two times and that an additional appointment is needed in 90 days. In that case we will meet you with a greatly reduced rate of €90.
For all information, see also the price list on this page.
Is Thermography only for women? .
No.
Thermography is not limited to typical female conditions.